Protecting the public during construction is essential for construction site hoarding. Without it, you risk voiding the Health and Safety at Work Act 1974. The good news, however, is that you can always protect the public with construction hoardings from Plasloc and here's how:
Restricting access to your construction site
Restricting public access to your construction site is one of the best ways of ensuring public safety, and one of the best ways to do this is with Plasloc construction hoardings. However, there are various considerations to make when determining the best way to restrict site access:
The number and type of visitors the site will receive
Type of construction work taking place
Population of the surrounding area
Building location and proximity to other buildings
Whether any existing boundaries are present
What risks do Plasloc construction hoardings protect the public from?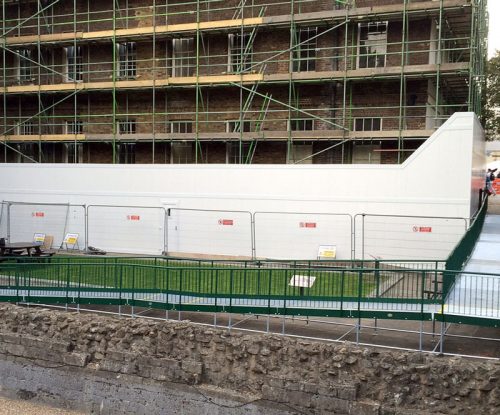 Construction sites pose various hazards to members of the public. However, Plasloc site hoardings protect against the following risks:
Flying objects
Did you know that moving, flying and falling objects accounted for 13% of injuries in the construction industry from 2017-2020? The Health and Safety Executive (HSE) also highlighted them as one of the most suffered injuries by members of the public.
Scaffolding
Debris and tools falling from scaffolding can lead to traumatic brain injuries and even death. However, you can ensure the public won't get too close when constructing or dismantling any scaffolding with our innovative scaffold hoarding solutions.
Openings
There were just under 27,000 personal injury claims in the UK in the final three months of 2019, with manholes, stairwells and open holes being 3 common causes of injury claims.
Construction materials
Construction materials are a potential trip hazard, so the best place to store any construction materials is in a secure compound within the construction site boundaries.
Falling hoarding
If your chosen hoarding material cannot withstand severe winds, heavy rain and other harsh weather conditions, there is a risk of it falling and causing injury. But as our hoarding solutions are built from highly durable post-industrial PVC-U with each and every site having a site-specific structural engineer's calculation, you will not need to worry about this.
Is Plasloc construction site hoarding suitable for all sectors?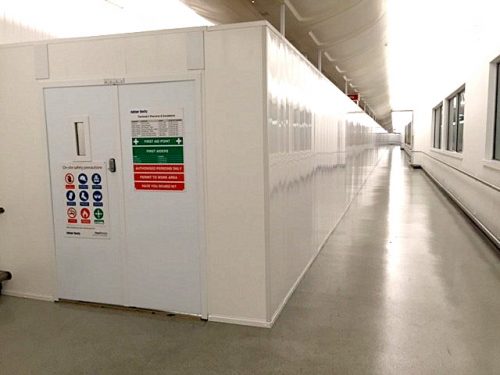 The patented Plasloc system is suitable for all types of construction works. This includes internal and external works, the retail, medical, leisure and industrial sectors. It is available in the recommended hoarding height of 2.4m and up to 3m, which is ideal for city centres and areas with high volumes of traffic.
Diabond, print and vinyl graphics can also be incorporated onto hoarding's design, so any relevant signage can be put in place.
Do you require construction site hoarding in the UK?
Get in touch with Plasloc today! You can give us a call on 01626 356 995 or contact us online.
Related to this post:
Four considerations when choosing temporary hoarding
What is construction hoarding?
How creative can construction hoardings be to suit your brand?