Although construction hoardings are primarily used for health & safety reasons, they can also be a great way to advertise your brand. In fact, there's plenty of opportunities to get creative with them. Here at Plasloc, we can creatively advertise your brand on our construction hoardings in a number of ways, such as:
Dibond, foamex or Vinyl graphics
Clip-in posters
Applying your corporate colours to them
Multimedia advertising
So, you can get an idea of the possibilities, we've compiled some examples of hoarding that we've provided for a variety of brands:
External hoarding for Vinci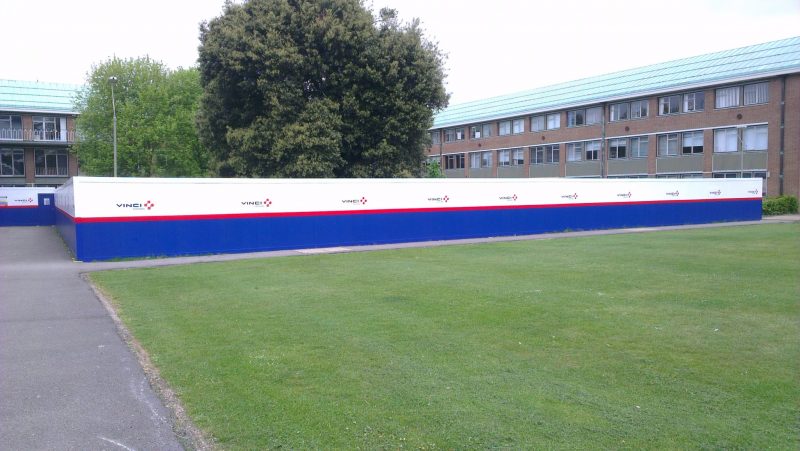 Emblazoned with the Vinci logo and supported by their corporate colours, this straightforward hoarding design provides effective advertising for the Vinci brand.
Construction hoarding for Sainsbury's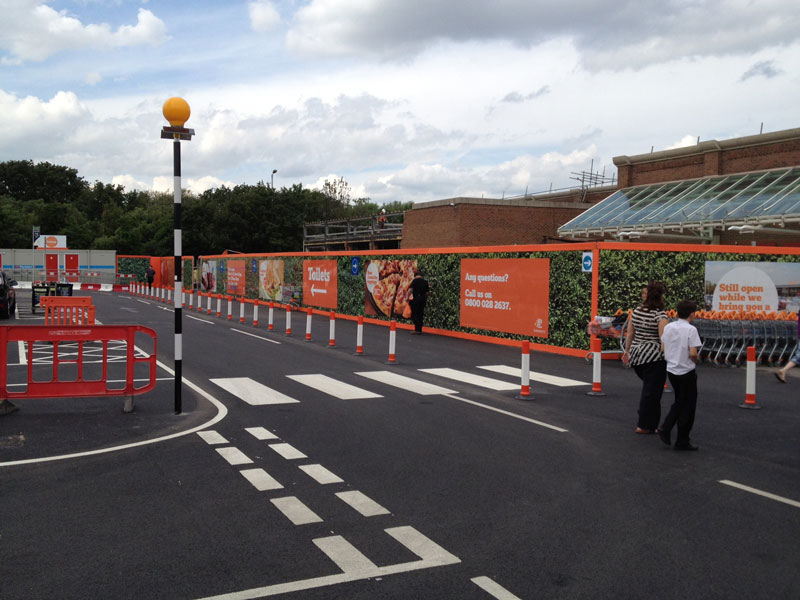 This external hoarding that we provided for Sainsbury's supports its brand in a variety of ways:
• It has various images of food, promoting some of the products they have available.
• Useful information such as opening times is also provided via text graphics. Any text is in the same font that they use for other advertising purposes, reinforcing the link between this particular font and the Sainsbury's brand.
• The colour orange is also a distinctive feature of their brand so this has been incorporated into the design too.
Kew Bridge hoarding for St James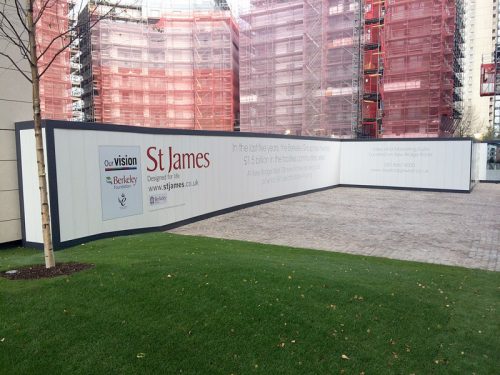 For this particular hoarding that we provided for property developers St James, a vinyl graphic of their company name in their company colours provided suitable promotion of their brand. As St James is a brand of The Berkeley Group, suitable information on them was also provided, creating a clear link between the two. The Berkeley Foundation, a registered charity funded by the Berkeley Group, was also promoted via a Dibond printed graphic.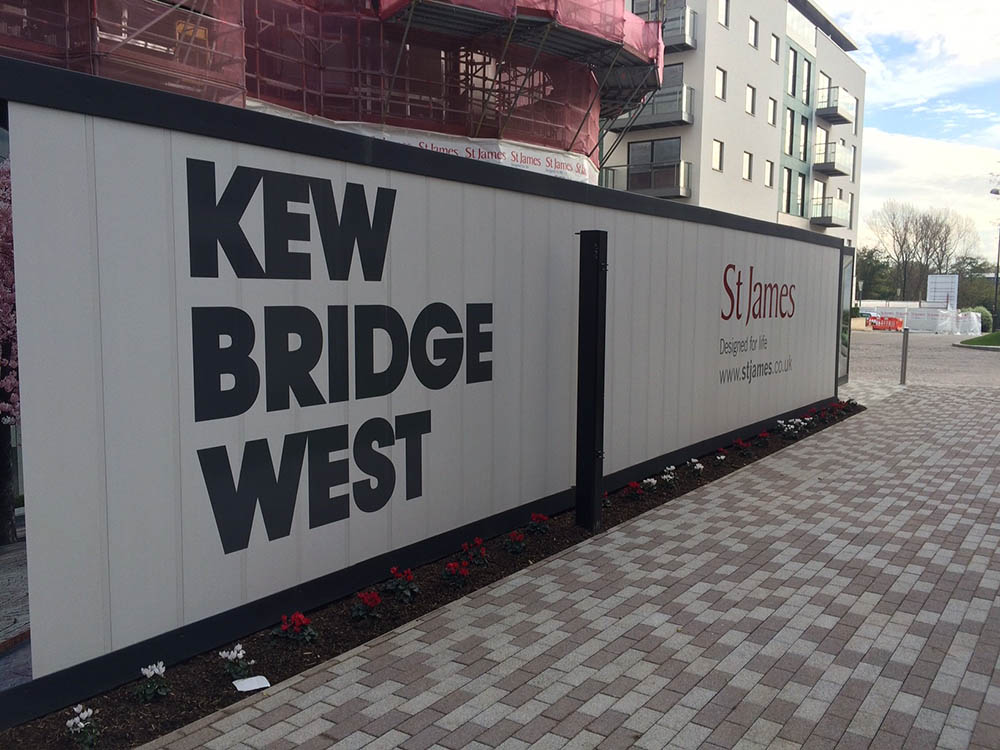 As you can see from the above, a vinyl graphic naming the development (Kew Bridge West) was also applied to a different area of the hoarding. By advertising the name of this particular development, passers-by were provided with a means of researching the work that was being done.
External hoarding for the Olympic Village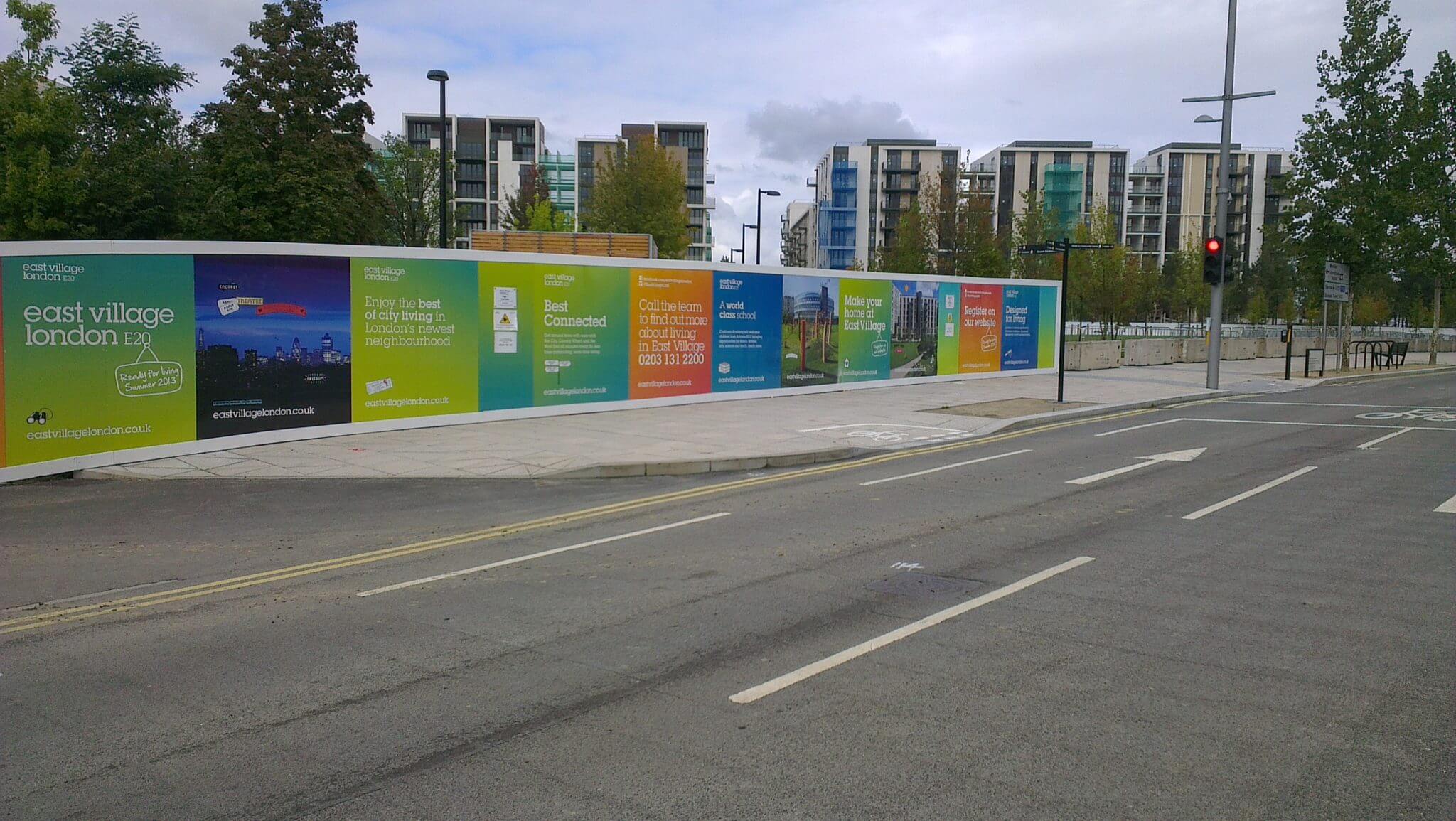 The hoarding that we supplied to the East Village London development is more text-heavy than the other examples. As well as providing passers-by with important information about the work being performed, there is information on how to enquire about living there, so there is a call of action in place. By connecting the two together, there is an opportunity for a sale to be made.
Access tunnel for Canary Wharf Shopping Centre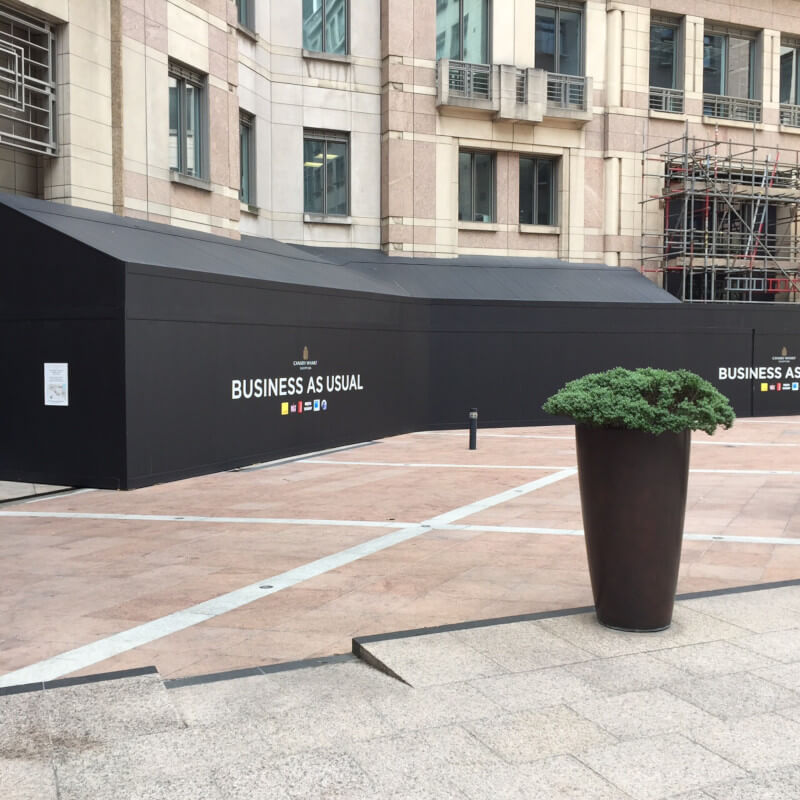 As you can see from this example, access tunnels can also be used to provide suitable promotion of your brand. The use of the Canary Wharf logo ensured the brand was suitably promoted, whilst the text 'business as usual' advertised that, despite the ongoing construction work, they were still in operation, ensuring that no potential customers were deterred from entering the shopping centre.
Planning permission for advertising on construction hoardings
There are rules surrounding advertising for construction hoarding. However, we've created a planning permission for advertising guide so you can ensure that any advertising of your brand has the relevant planning approval.
Do you require construction hoarding for a project along with a creative way of promoting your brand? Get in touch with us here at Plasloc by calling 01626 356 995 or contact us online.