When fitting construction hoarding, there are several requirements that must be considered. Failure to meet these construction site hoarding requirements can result in criminal proceedings, a hefty fine and severe damage to a company's reputation. As a supplier of our patented PVC-U construction hoarding, we're well aware of the different requirements. So, we've looked into them for this blog so you can be too.
Health and Safety at Work Act 1974
The Health and Safety at Work Act 1974 requires employers to protect members of the public passing by a construction site. Construction site hoarding is an essential means of protection for the public and for ensuring compliance with the Health and Safety at Work Act. So, when performing a health and safety assessment of the site, the employer should determine any risks to the public.
Breaches of health and safety regulations can result in an unlimited fine or even imprisonment if human lives have been put in danger.
Weather resilience
To ensure for continuous safety on site, construction hoarding needs to be able to endure severe weather and wind. It is also essential to assess the stability of the hoarding if any loads, such as CCTV cameras and lights, are to be placed on it. So, make sure to consider the chosen hoarding material's ability to manage the wind and weather.
There have been issues with timber hoarding collapsing in the past, such as the hoarding fitted outside of a H&M in West London. However, the patented Plasloc system is built from 100% post-consumer or post-industrial PVC-U, which is exceptionally weather resistant.
Construction Design and Management Regulations
The Health and Safety Executive created the Construction Design and Management Regulations. They consist of 5 different parts covering construction projects and general requirements for construction sites. They require that construction hoardings must have signs that indicate who has site access on them.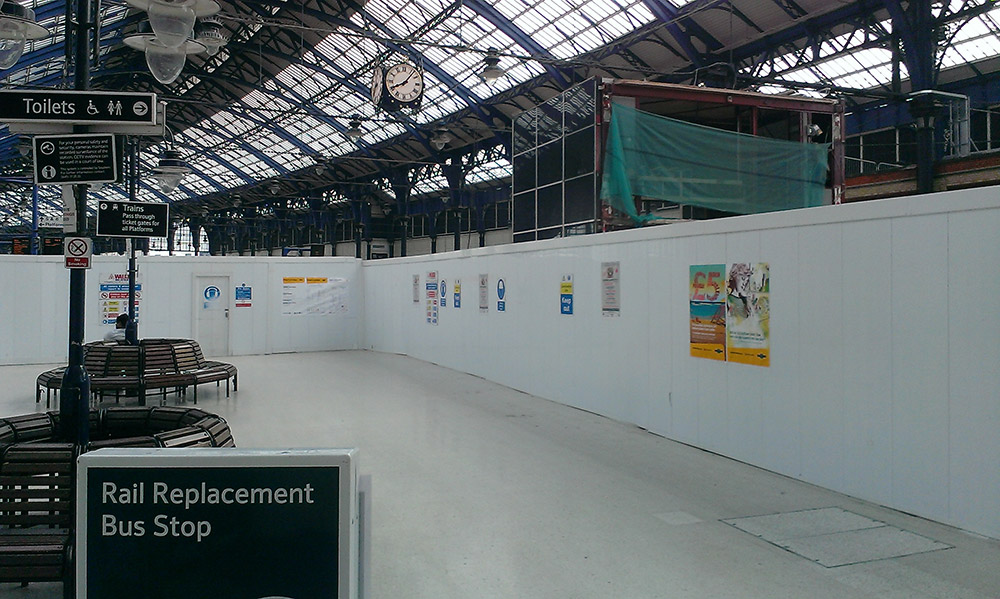 Are there any height requirements for construction hoardings?
The recommend height for hoarding is 2.4m, although a height of at least 2m will be suitable for most building sites. However, for construction sites located in city centres or where children might attempt to gain access, high-security hoarding, or a high-security fence (both 3m) might be more suitable.
Preventing unauthorised access
Although the height of a hoarding helps to prevent unauthorised access, the hoarding should also be difficult to climb. Therefore, it should have no hand or footholds, or gaps underneath. Our PVC-U construction hoarding has no hand or footholds, or gaps. So, it is compliant. Secure gates should also be used at access points, and these should be the same size as the hoarding.
Choose Plasloc for all your construction site hoarding requirements
Here at Plasloc, our construction hoarding system is built from highly durable PVC-U and requires no ground penetration. We also have a structural engineer to perform a site-specific calculation, ensuring for compliance with all the necessary regulations and that all your temporary work requirements are met. For more information, give us a call on 01626 356 995 or contact us online.
Related to this post:
What is construction hoarding?
What are site and advertising hoardings?                                   
How creative can construction hoardings be to suit your brand?