With the removal of the Plan B COVID restrictions that took effect on January 27th, England returns to Plan A following the success of the booster programme. The new guidance in place set by the government means that:
Face coverings are no longer a legal requirement in any setting
The NHS COVID Pass will no longer be a legal requirement at venues but still can be used on a voluntary basis
Any introduction of face coverings must be reviewed by local authorities and removed at the earliest opportunity
Removal of PLAN B COVID restrictions
This can see life return to 'normal' for many people across the UK but it does leave some doubts in some people's mind as to whether it's too soon. This can be more prevalent in office settings where people are situated closely to one another and with meetings taking place, interaction with people you necessarily wouldn't usually be around can't be avoided. Data from Public Health England shows that in 2020, there were more outbreaks in office scenarios in comparison to supermarkets, warehouses, restaurants, construction sites and cafes combined.
The above shows that it is in fact essential for office environments to still install office partitioning to try and combat this problem to prevent further spreading and at the very least, to ease worries in staff's minds.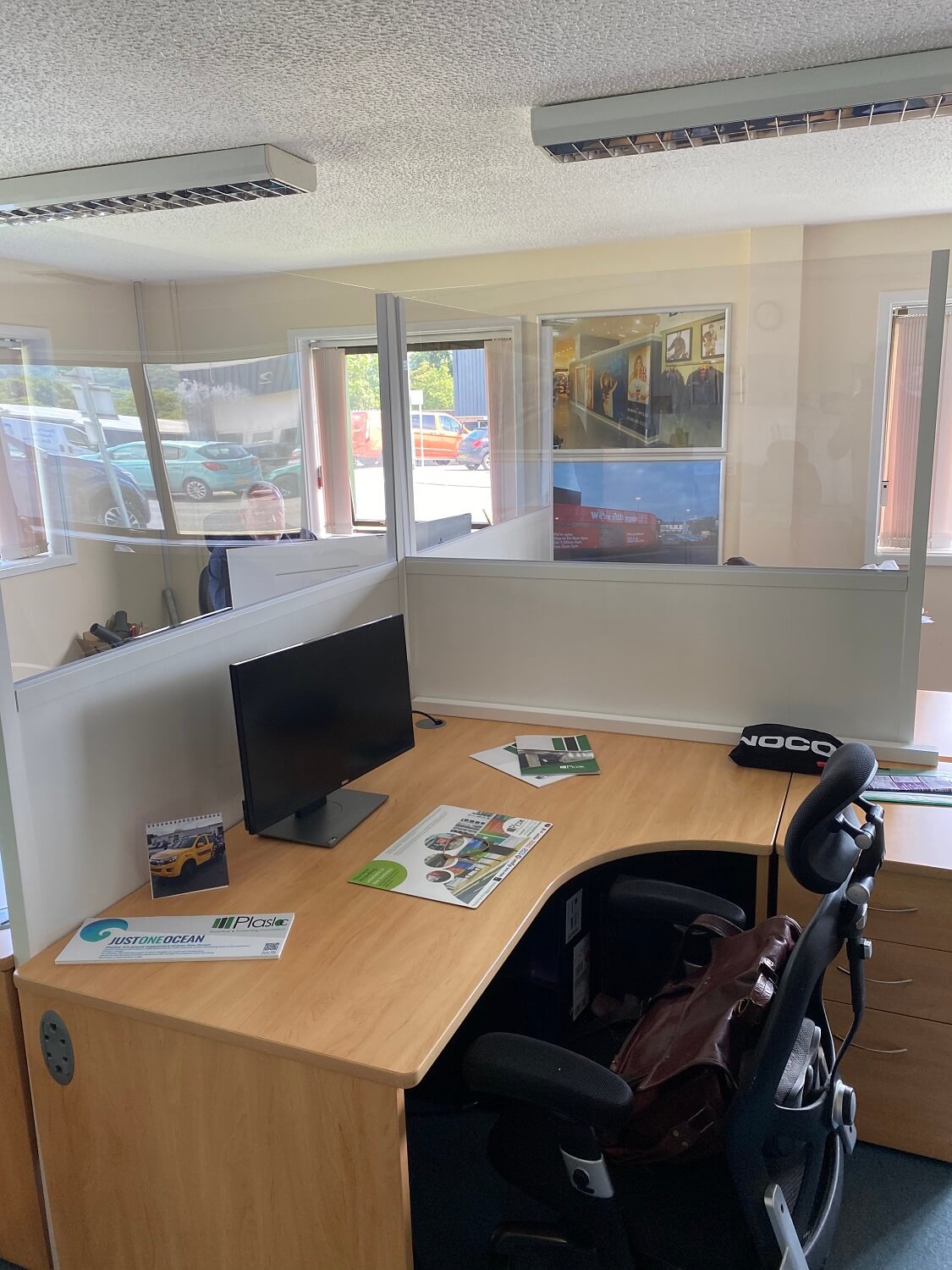 COVID screens and office partitioning installation across the UK with Plasloc
Plasloc's office partition screens are built to the bespoke requirements of any setting to ensure social distance is in place for staff and visitors. Our PVC-U COVID screens are highly durable, resist dirt accumulation (and bacteria) and due to PVC-U's low maintenance qualities, our office partitioning is to clean which helps reduce the spread of COVID-19; which makes it the perfect hygienic screening solution for businesses looking to make the transition back to the office with safe working practices in place. All our partitioning is available with optional extras from multi-media advertising banners through to LED lighting, cable containment, and even additional enterance doors/windows. Plasloc is your one stop shop for your hoarding needs.
Recent COVID screening installation with Plasloc
Temporary hoarding solutions and office screening throughout the South West
For all your Hoarding and office partitioning needs look no further than Plasloc. We're an environmentally clean alternative to standard building materials, designed for quick installation and easy removal. Having achieved Carbon Neutral status it is our mission to reinforce sustainability at every step of the product journey from manufacture to installation. For further information on our hoarding solutions and availability please don't hesitate to contact us on 01626 356995 or drop us an email at info@plasloc.com
Read more related blogs:
7 reasons to buy your office partitioning from Plasloc