Here at Plasloc, we specialise in supplying unique hoarding solutions for major infrastructure and construction projects. We have recently seen a huge increase in retail projects since lockdown has been lifted.
We have been fitting our external and internal hoarding systems for some of the UK's biggest supermarkets.
The effect lifting lockdown has had on the retail industry
Our Director Leigh Matthews had this to say:
"Lockdown has been a hugely challenging period for the whole construction industry but since restrictions were lifted we have seen an increase in retail projects with Tesco, Morrisons and Co-op around the country.
"Retail construction is pushing forward following lockdown and our regular involvement in the sector has seen our hoardings in demand."
Plasloc install both internal and external hoarding screens designed for quick installation for use in 'live' retail environments.
Lightweight, clean in appearance and easy to handle, our system utilises an interlocking system that removes the need for ground penetration. It can either be plain white or have graphics applied to suit the location or for advertising purposes.
Environmentally-friendly hoarding solutions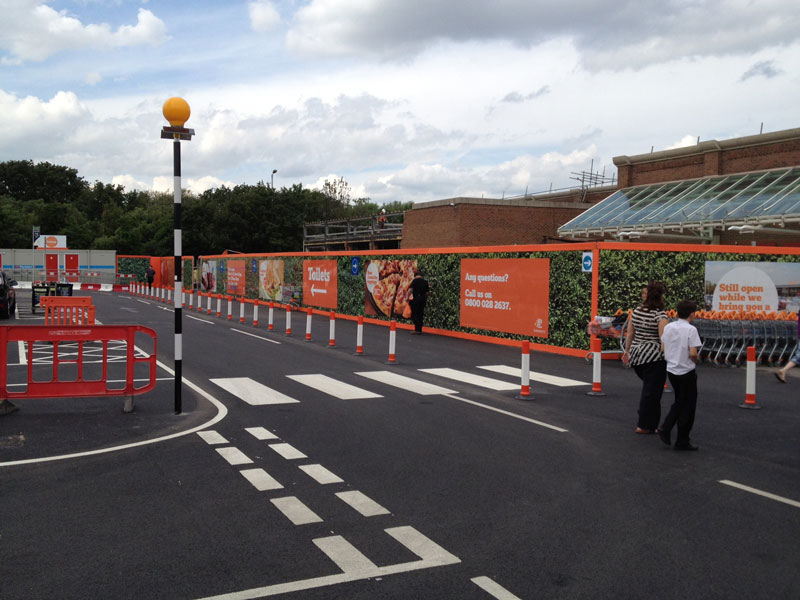 It has also been developed as an environmentally friendly alternative to standard building materials. Built from 100% recycled post-consumer or post-industrial PVC-U, after use it is granulated and ready to be closed-loop recycled back into the next generation of Plasloc, ensuring zero waste.
With hygiene vital to help prevent a second wave of coronavirus, Plasloc's hygienic screening is perfect for sites to help maintain government guidelines. They can be easily cleaned to prevent infection and provide cost-effective clinical segregation. Signage on them can also help with allowing a controlled flow of people moving throughout a site.
"Retail projects by nature require quick installation and dismantling to ensure there is minimal disruption to the progress of the project, which is why Plasloc is turned to time and time again," said Leigh.
Plasloc's reputation in the retail sector means that we are now a recognised brand amongst the UK's leading retailers, including Selfridges, John Lewis, IKEA, and the supermarkets above, with clients that operate both locally and nationwide.
And since launching in 2011, Plasloc has been an essential component in more than 6000 projects and is the go-to hoarding solutions company amongst the UK's major building contractors.
For a cost-effective, sustainable, innovative, and unique hoardings solution, or for more information on how Plasloc can help you with your next construction project, please telephone 01626 356 995 or contact us online.
Check out our related blogs:
A round-up of our best retail hoarding customers (including Selfridges)
Innovative scaffold hoarding solutions for city centres
What are site & advertising hoardings? (And our tips for choosing hoardings)