Here at Plasloc we offer many types of temporary hoarding solutions ranging from, Demo Wall systems, Access Tunnels to Composite insulated hoarding panels. Each of these have their uses within the construction sector to segregate and protect the public from dangerous falling objects, providing safe access routes for pedestrians around construction projects or within the retail sector as shopping centre hoarding.
However, one of our most sought-after forms of temporary hoarding systems is our internal hoarding, which has many applications within retail in airports, offices and leisure centres but also in the medical sector.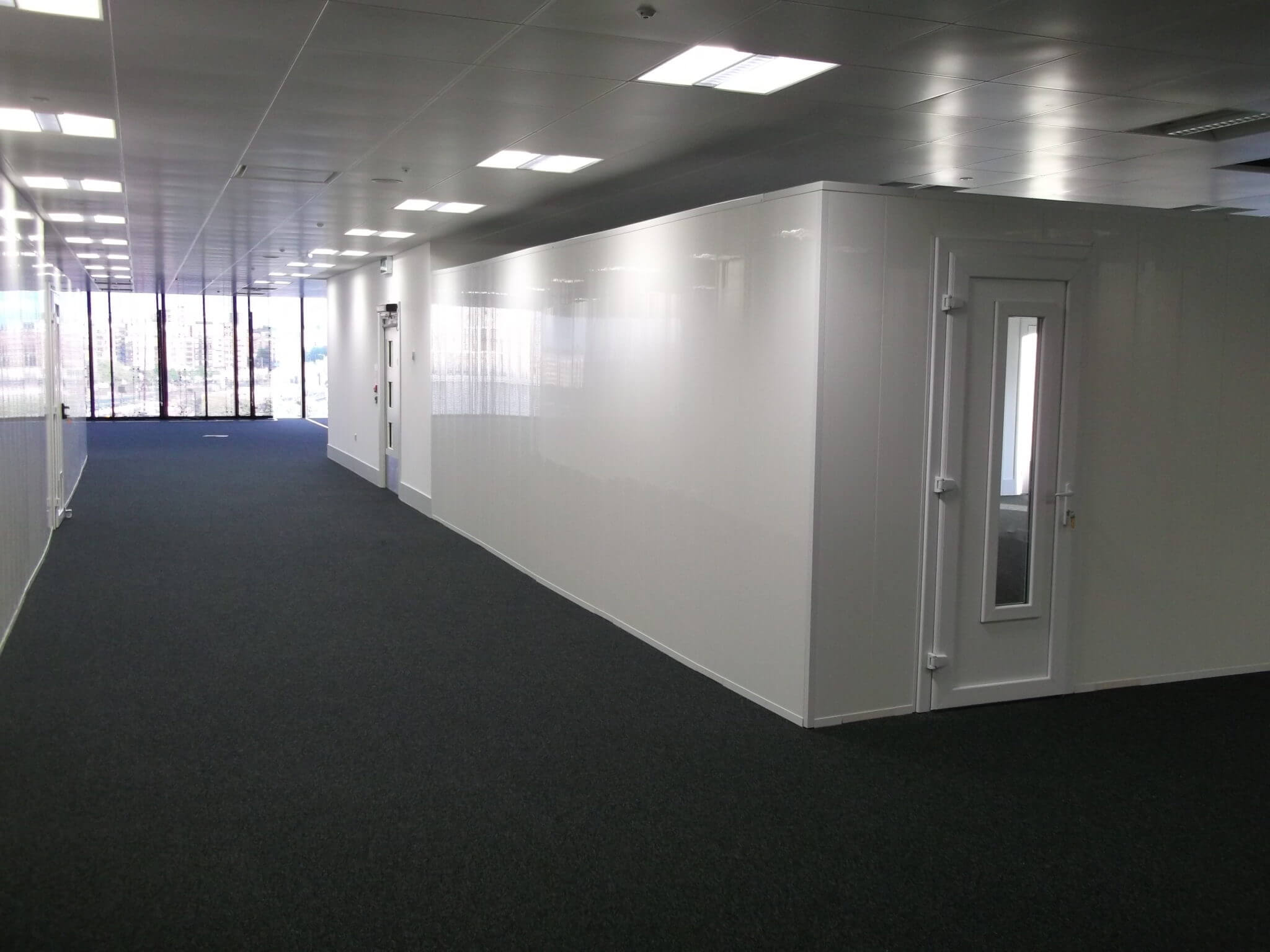 The benefits of using Plasloc's Internal hoarding in the medical & health care sectors
All of our temporary hoarding systems are made from 100% post-consumer or post-industrial recycled and fully sustainable uPVC which is sent for recycling at the end of its useful life, providing significant environmental benefits – this is in a bid to continue our efforts to being a carbon neutral business.
uPVC resists dirt accumulation astoundingly making it the material of choice for areas where hygiene and cleanliness is paramount. Additionally, uPVC is incredibly low maintenance and cleaning to achieve a sterile, infection free environment, requires little to no effort. The use's of our temporary hoarding systems  know no bounds and it can be used to build temporary wards during sickness outbreaks and provide sectioned off areas designed for privacy and dignity.
Plasloc is renowned across the industry for its eco friendliness but also, its ease of installation and receives resounding praise because of this. This is achieved through tongue and groove connecting boards that slot together easily so you can begin segregating your project off and undertake work right away.  Our internal hoarding systems are available in 1.2m and 2.4m standardised heights (can be extended with specifically designed jointing strips) and are freestanding meaning no floor penetration is required.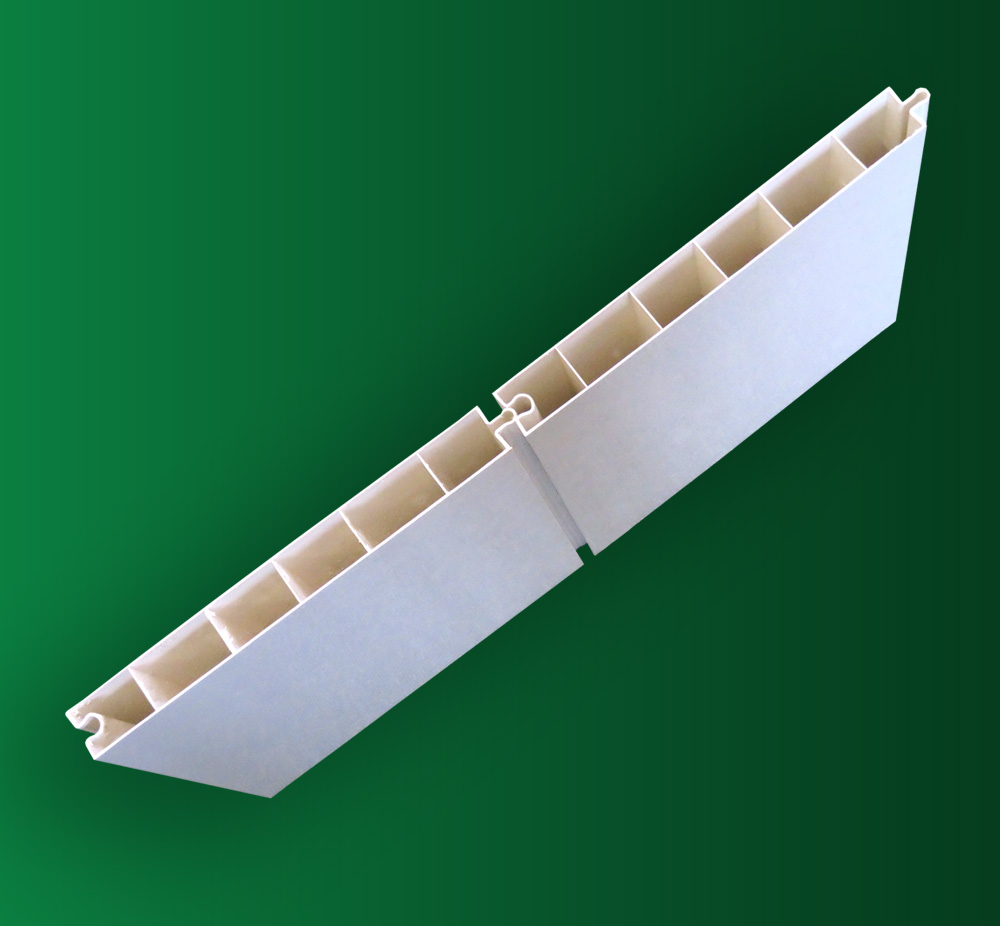 Full customisation available for your hoarding systems with Plasloc's optional extras
Sometimes our customers need more than a blank hoarding system, it needs to be versatile, and we cater for it. Our Plasloc systems and be fitted with enhanced optional extras to provide the level of flexibility your require for your project. See the table for the added extras we can provide to your hoarding as per your requirement:
| | |
| --- | --- |
| Feature | |
| Doors | ✓ |
| Windows | ✓ |
| Poster Advertising/Advertising boards | ✓ |
| Cabling containments | ✓ |
| LED Lighting | ✓ |
| Multimedia Advertising | ✓ |
| Door security – key coded locked doors | ✓ |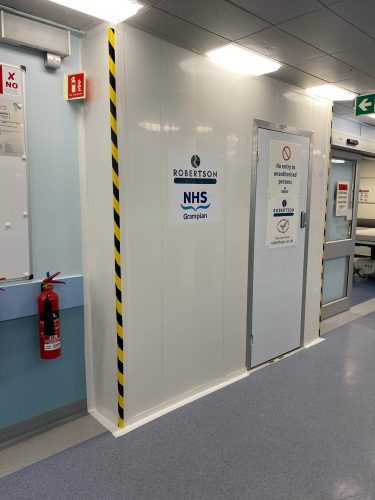 Plasloc assist major infrastructure and construction business, Robertson, at the Aberdeen Royal Infirmary
Plasloc have worked across the country with numerous hospitals assisting the NHS across the UK. Most recently this has extended to the assistance of family run construction business, Robertson. Based in Scotland, the North West and the Midlands, Robertson have been key in the development of infrastructure of the UK since 1966 and recently purchased Plasloc's internal hoarding systems for works undertaken at Aberdeen Royal Infirmary, Scotland.
These developments consisted of theatre compartmentation and infection control within the hospital (which can be seen in the above and below pictures) and could only commend the internal hoarding for its practical uses and could only speak highly of the ease of its application as they believe it has assisted in them being awarded further projects within the NHS.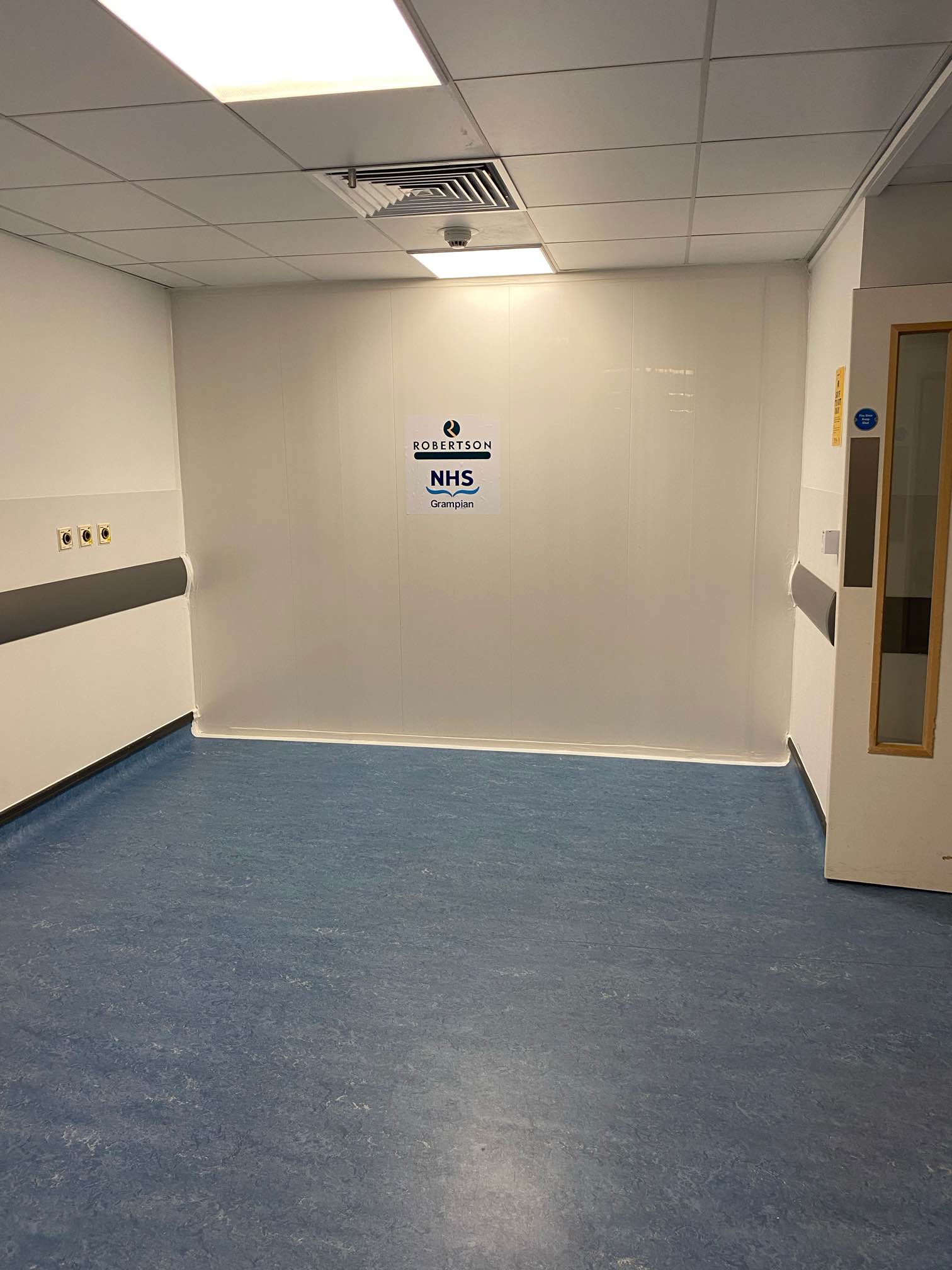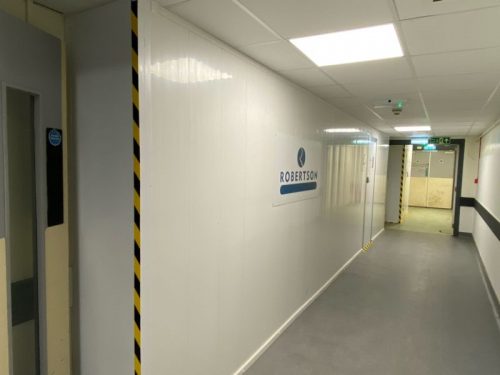 Internal hoarding solutions that assist the medical sector and beyond from Plasloc
At plasloc we take great pride in assisting the NHS and other major clients across the UK and we are a recognised brand for site hoarding screening across the nation. Our temporary hoarding solutions is an environmentally clean alternative to standard building materials that works just as efficiently if not better due to tactful ingenuity within the design process of our hoarding to provide quick assembly and disassembly.
If you require hoarding systems for your next project, don't hesitate to get in touch for a free quote or contact on 01626 353995 to speak to a member of our professional and friendly team who will be more than happy to assist you with further details.
For further information on Plasloc's continued efforts to assist the NHS and medical centre, read our following blogs below:
Plasloc – hoarding solutions specialists in demand for hospital projects
Internal hoarding solutions for hospitals & healthcare facilities