Construction works are often carried out in hospitals and healthcare facilities in order to improve the standard of care that they provide. But in order for building work to take place, it's essential for the construction site to be cordoned off using an internal hoarding system. Here at Plasloc, we've provided internal hoarding solutions in hospitals and other medical environments, from the Medical Research Centre in Hammersmith to Kettering Hospital. If you require internal hoardings for hospitals or an alternative medical environment, we're the ideal hoarding supplier and here's why:
Compliant with fire safety regulations
Complying with fire safety regulations is essential when an internal hoarding system is required for a project. Common fire regulations include an adequate means of escape and measures being in place to prevent the spread of fire. We ensure for full compliance in both aspects when installing our innovative hoarding system.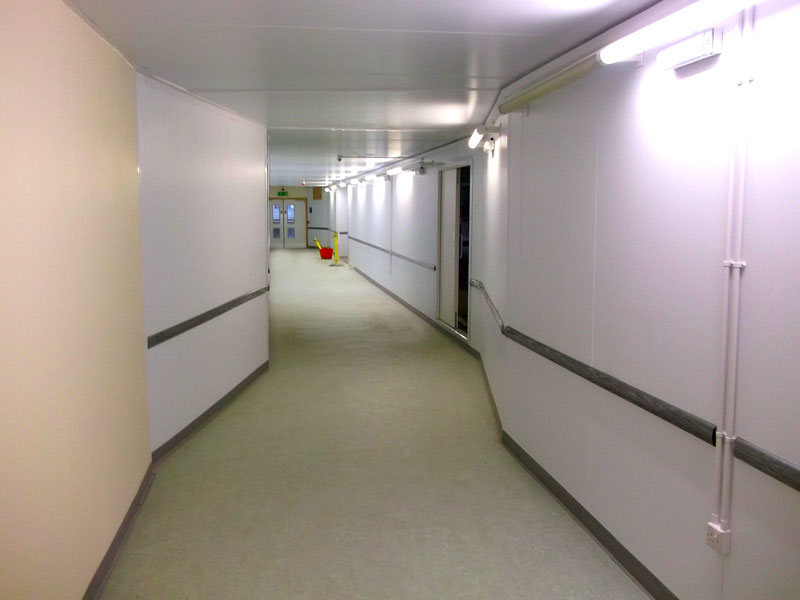 We were involved in a construction project at The Zayed Centre for Research into Rare Disease in Children, installing a 1hr fire rated tunnel so construction works could be carried out safely. The tunnel we built provided a clear, hygienic passageway for bedbound patients to be moved safely between wards. By providing 1 hour of protection against the spread of fire, an adequate amount of time was in place to allow for the centre to be evacuated safely during an outbreak of fire.
Perfect for minimising the risk of infection
In hospitals and other medical environments, it is essential to prevent the risk of infection as best as possible, which means hygiene is of the utmost importance at all times.
We ensure the risk of infection is negated as much as possible because the materials used to create the innovative Plasloc system are all brand new, so they've had no previous exposure to unsanitary conditions. We also thoroughly clean them down with disinfectant and wrap them prior to delivery at any medical environment.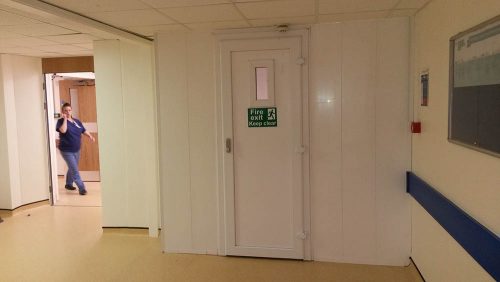 When the Plasloc system is fitted, our expert installers can use telescopic poles and polythene from the floor to the ceiling to cordon off the construction site completely from the rest of the medical environment. This lowers the risk of other areas of the hospital or medical centre becoming contaminated once construction work begins.
Low maintenance internal hoardings for hospitals
Our internal hoardings are built from high-grade, recycled PVCu and one of the great things about this material is that it resists the accumulation of dirt very well. Any dirt that does accumulate upon it can also be wiped away with complete ease, making it the ideal material for use in hospitals and other healthcare environments.
Mess-free installations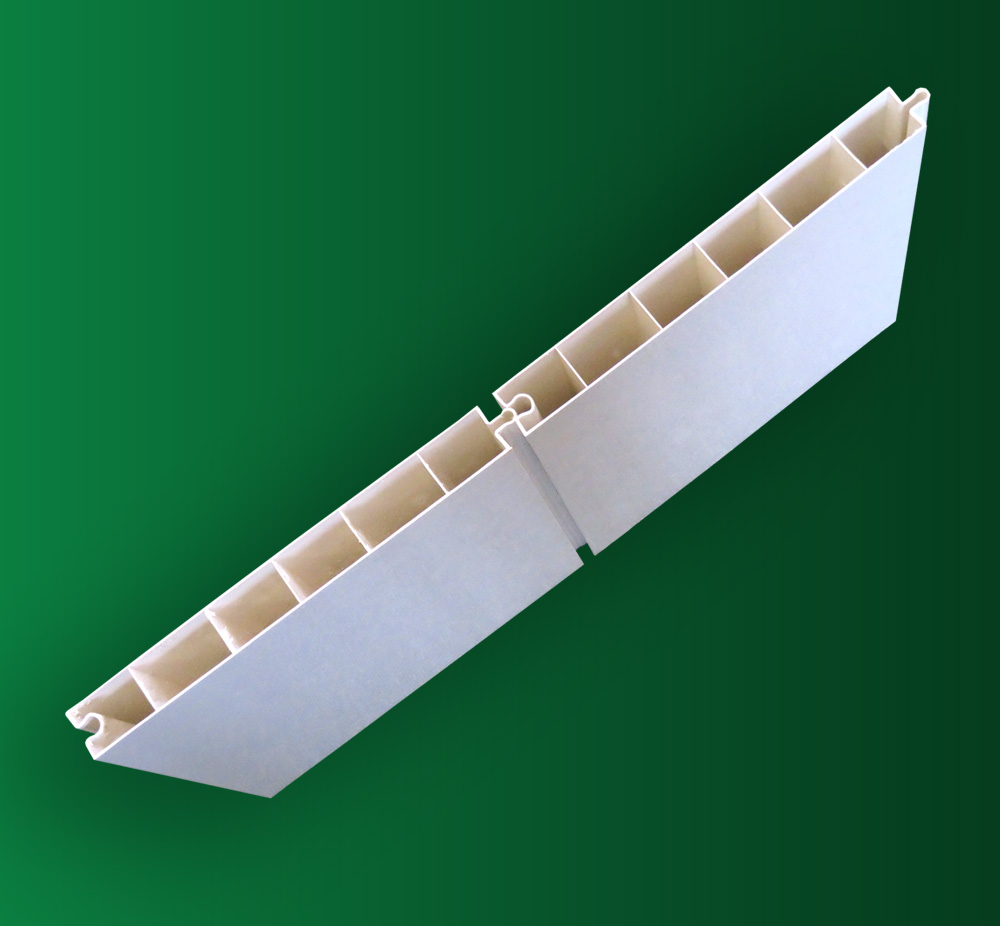 One problem of using timber and plasterboard hoarding is that they require cutting on-site, which leads to the creation of sawdust. It's also likely that they'll need to be painted in order for them to fit in with their surroundings, all of which lead to the creation of mess. In an environment where hygiene is of the utmost importance, this means they are simply not suitable for use.
However, our innovative PVCu system creates no mess whatsoever. It needs no cutting on-site and it fits together easily via a tongue and groove system. It's also freestanding so it requires no floor penetration, ensuring for a quick and clean installation.
Satisfy any signage requirements and more
The internal hoardings that we fit are available with a variety of optional extras, including:
LED lighting
Windows & doors
Power containment
Dibond, foamex or Vinyl graphics
Clip-in posters
Multimedia advertising
This means that we're able to provide any signage that is necessary for compliance with health and safety guidelines, whilst we can satisfy a whole host of other unique project requirements too.
Minimal disruption to staff and patients
Hospitals and healthcare facilities are busy environments, where the ability to move freely between different areas is essential for them to be able to operate at optimal capacity. Free movement means medical staff can get to where they need to go, and patients can be transferred to the correct department to receive treatment.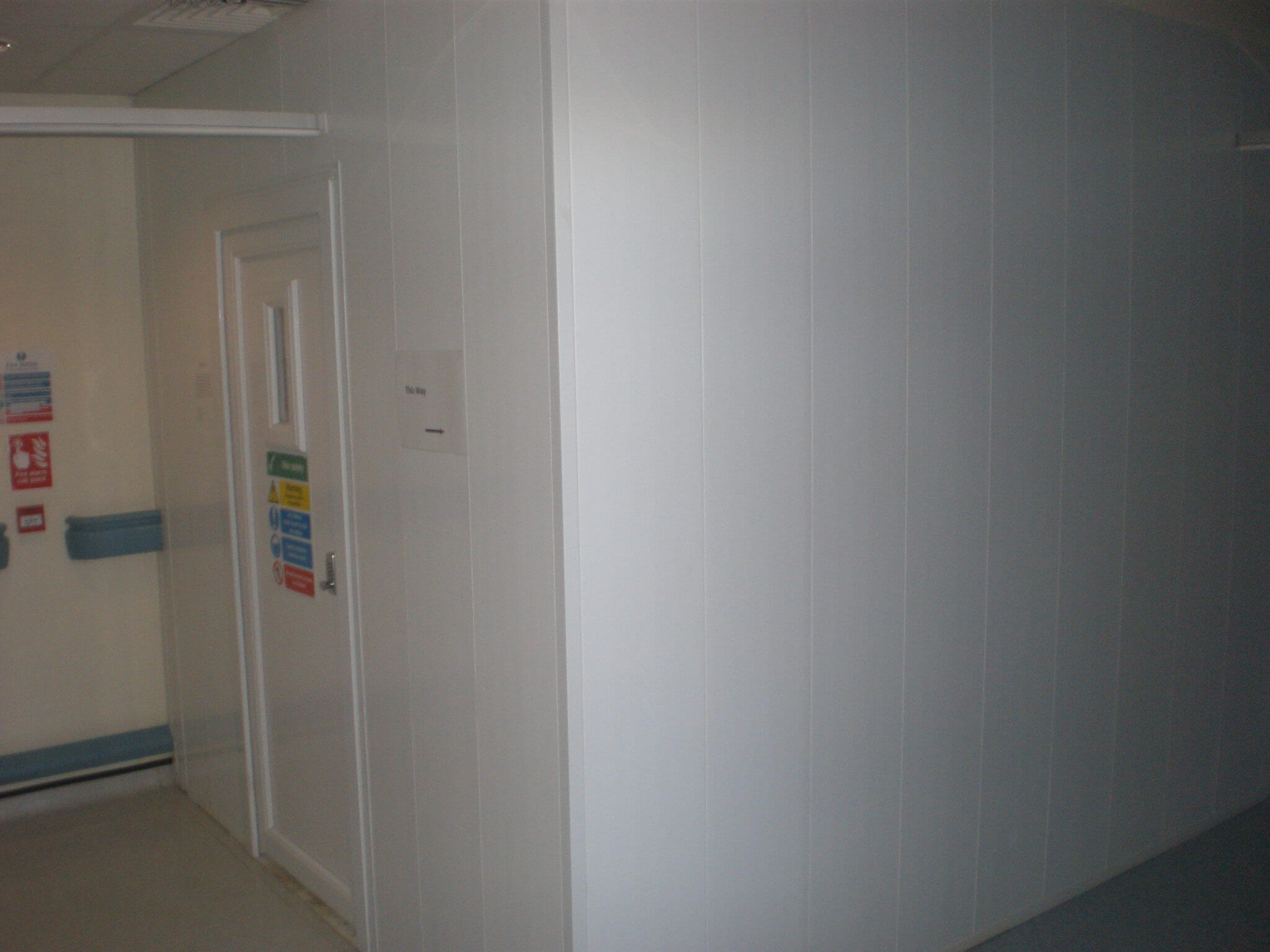 When construction works are required, it is essential for free movement in a hospital to be as unimpaired as possible. But because the Plasloc system has been specifically designed to allow for it to be installed swiftly and removed easily, interference with the daily running of the hospital is minimalised.
Other uses of internal hoardings in hospitals
The Plasloc system is suitable for a variety of additional uses in hospitals, such as:
Access/patient tunnels – As previously mentioned, we've used the Plasloc system to create tunnels for patients to be safely transferred between different areas of the medical centre.
Temporary wards – During sickness outbreaks, it is sometimes necessary for wards to be quarantined or for temporary ones to be built. The speed of which the Plasloc system can be installed ensures hospitals and medical environments can be segregated swiftly to prevent the spread of infection. The tongue and groove connection between each panel is also dust-tight, meaning it's suitable for controlling the spread of infection, even for high-risk patients.
Privacy & dignity screens – The Plasloc system is also suitable for use as a privacy or dignity screen, one which is suitable for preventing the spread of infection.
External hoarding – If outside construction work is required, we can supply an external hoarding system, which is hardwearing, eco-friendly and equally as quick to install.
 Do you require a quick to fit, highly durable hoarding system for use in a hospital or healthcare environment? Standard internal systems are available in heights of 1.2m and 2.4m and certified to BS 6180:2011, our fantastic PVCu system is perfect for any hospital or healthcare facility. For more information or a free quote, call 01626 356 995 or contact us online.