In this piece, we aim to answer one of our most frequently asked questions here at Plasloc and that's which of our hoarding boards are fireproof?
Our range of internal and external hoarding solutions is extensive and plays a pivotal role in more than 6000 projects across the UK thanks to being lightweight, secure fit, freestanding and environmentally friendly thanks to being made from our 100% post-industrial recycled uPVC.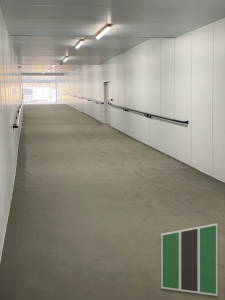 Fire-resistant hoarding solutions from Plasloc
Several of our hoarding panels are fire-rated – our composite insulated hoarding panels, our temporary access tunnels and our demo temporary wall system.
Fire-rated composite insulated hoarding panels
Our composite insulated hoarding panels are an amalgamation of laminated steel finished boards packed with mineral wool to provide a non-combustible core that has seen continuous success within the , and as both permanent and temporary insulated screening systems.
Composite insulated hoarding panels can achieve a fire rating of up to 120 minutes and they can be installed vertically or horizontally depending on building layouts and provide a cost-effective fire rated alternative to the traditional block work and stud partitioning.
The fire rated portioning system can be assembled promptly, seamlessly, and safely due to its unique interlocking system.
Fire-rated access tunnels
Our scaffold-based temporary access tunnels have fire integrity and insulation up to 120 minutes.
Our internal and external temporary access tunnels are perfect for offices to remain operational while construction work is being carried out.
They are weather proofed, feature acoustic properties and have hygienic wipe down surfaces which are perfect for food and medical environments, and they can be provided in a bespoke width and height and can be designed with windows and doors.
Fire-rated tunnel installation for major Nottingham project
We provided the perfect fire-rated tunnel for a major walkway at Nottingham's Broadmarsh shopping centre to allow a major demolition to get underway.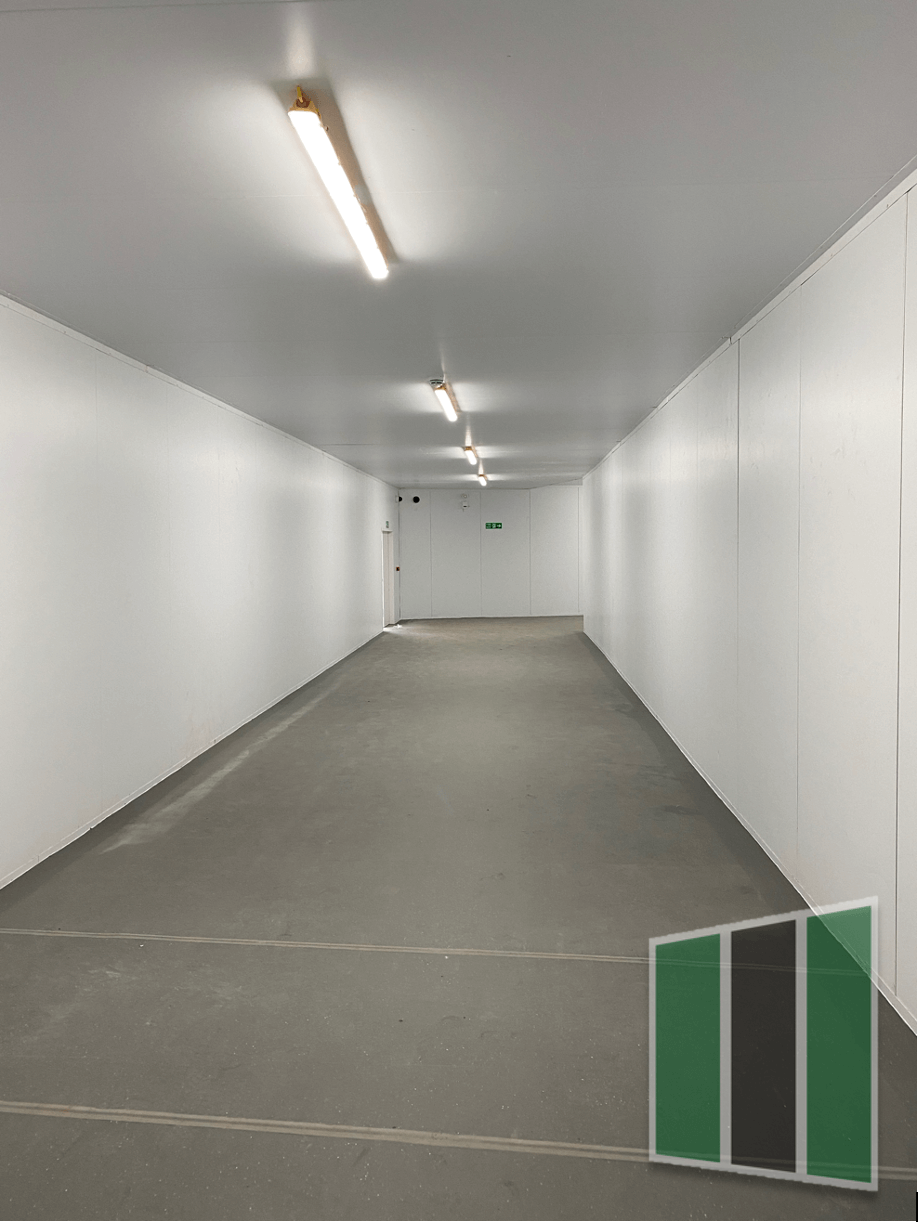 Fire-rated demo wall system
Fire-rated versions are available of our demo temporary wall system, which provides a bespoke temporary construction partition wall for to segregation issues and is perfect for the aviation, commercial, industrial, and . Designed to be a quicker and more economical temporary wall system when compared to traditional internal walls and composite external wall systems, it provides a hygienic, smooth white surface that can be washed down as required or have graphics applied.
Its unique interlocking system means our demo wall can be assembled safely, swiftly and efficiently with no additional components with minimum fuss and disruption.
Doors and windows can also be incorporated, as well as LED lighting, power containment, and clip in poster, and multimedia advertising.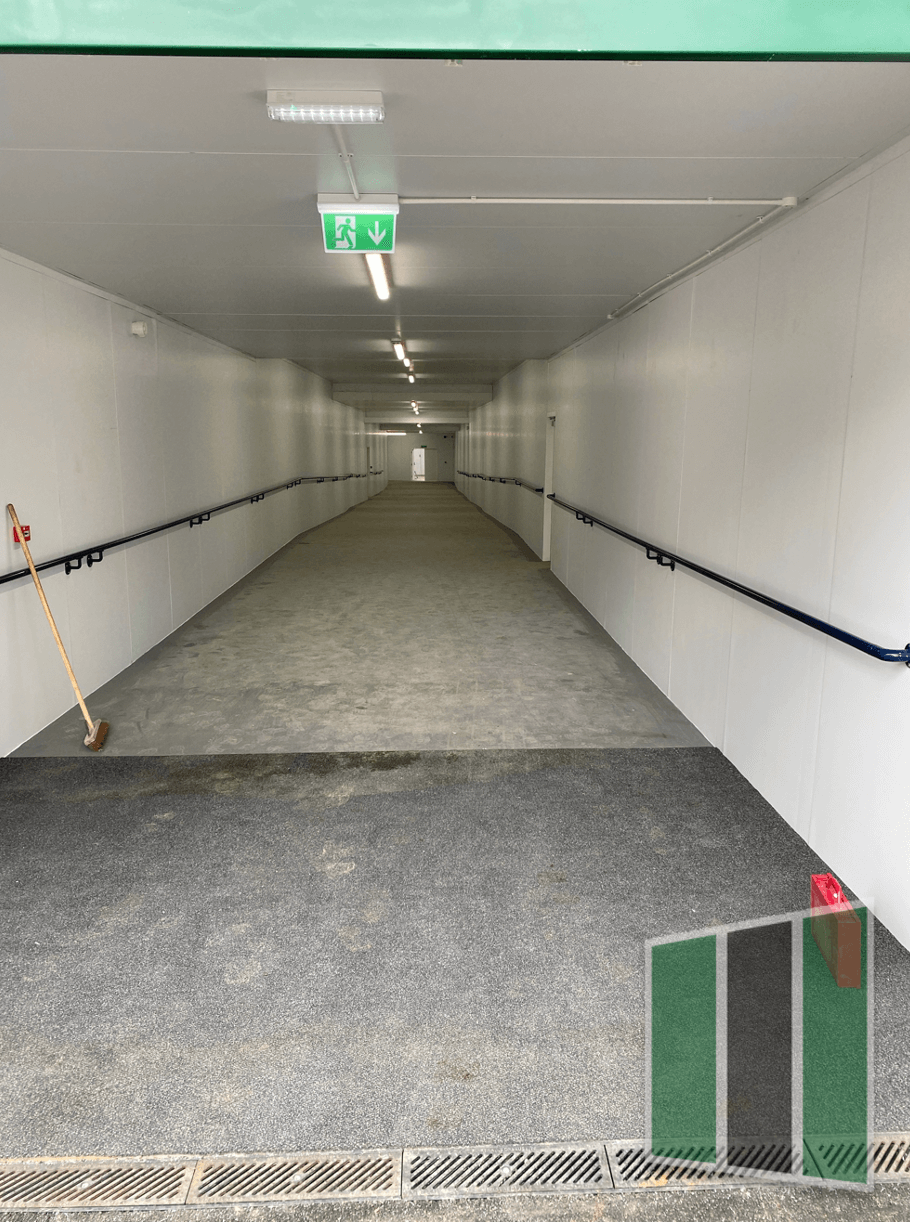 Hoarding solutions for domestic and commercial use from Plasloc
For all your hoarding solutions, no matter the industry whether it's or , look no further than Plasloc. We supply a range of hoarding systems from, Internal Hoarding, Demo Wall Systems, Access Tunnels, and External Hoarding, to suit any building project. Complete with optional extras that are efficient and safe to install, get in touch with a member of our team of experts on 01626 912216 for further information or leave us an email at info@plasloc.com and we will get back to you as soon as possible.