In a world oversaturated with digital marketing and social media, it's easy to overlook the tried-and-true methods of advertising that have stood the test of time. One excellent, albeit traditional form of advertising is hoarding advertising, which still holds a unique and powerful opportunity for companies to reach their target audience in an innovative way.
Read on to explore the power of hoarding advertising, how it can help maximize brand exposure, and key features and benefits.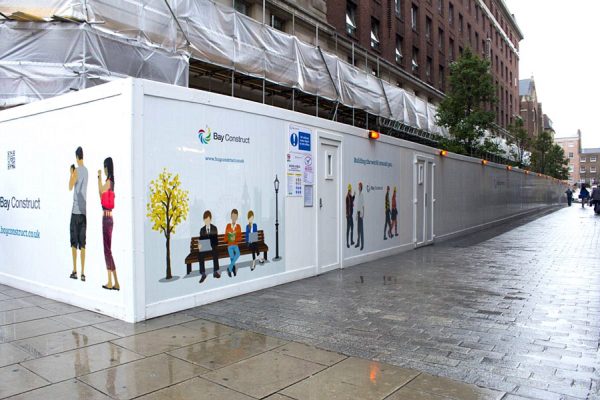 What is hoarding advertising?
Hoarding advertising involves hoarding systems being customised with graphics, typically arranged as large, eye-catching displays and placed in high-traffic areas, alongside highways, major roads, and in densely populated urban spaces. The hoarding showcases advertisements for products, services, or brands in a visually striking manner, aiming to capture the attention of passersby. These large displays offer a unique and highly effective way to reach a broad audience.
Hoarding advertising can be achieved with a variety of hoarding styles. At Plasloc, we offer a range of optional extras for our internal hoarding and external hoarding, so no matter your projects requirements, we have you covered.
Internal hoarding advertising
Our internal hoarding product is ideally suited for retail or commercial spaces, and at Plasloc all of our internal hoarding systems are available with clean, white surfaces that are ideal for branding up with a logo or safety information. You could also sell the space for third-party advertising.
At Plasloc, we understand brand exposure is essential to business, and that's why all of our internal hoarding boards are available with beneficial optional extras. Internal hoarding can be customised to your corporate colours or Plasloc can offer a full graphics package with images being printed onto Diabond, Foamex or Vinyl. Easy-fit doors and windows could also be incorporated into your internal hoarding. In addition, we have an extensive range of unique supplementary modules such as multi-media screens, LED lighting, power containment, and clip in poster advertising.
External hoarding advertising
Our external hoarding is best placed in areas where digging a hole in the ground for support posts isn't possible. External hoarding works brilliantly in areas where construction works are being carried out or equally if you need to direct the public away from an area for safety or security concerns. It is also ideal for graphics and advertising, seamlessly being incorporated into the surrounding landscape.
At Plasloc, we understand the importance of hoarding advertising, and you can elevate your site segregation with many of our beneficial optional extras. External hoarding can be customised to your corporate colours or Plasloc can offer a full graphics package with images being printed onto Diabond, Foamex or Vinyl. You can also add a few doors, vehicle gates or even a media screen. In addition, we have an extensive range of unique supplementary modules such as LED lighting, power containment, and clip in poster advertising.
What are the features and benefits of hoarding advertising?
Hoarding advertising has a range of features and benefits that can help to maximise brand exposure, including:
Enhanced visibility
One of the biggest advantages of hoarding advertising is the sheer visibility it offers. Hoarding is strategically placed in high-traffic areas, ensuring that they are seen by thousands of people every day. Whether commuters are stuck in traffic, waiting at a bus stop, or simply passing by, they cannot ignore the presence of well-designed hoarding advertising. This constant exposure to your brand's message can significantly impact brand recall and customer engagement.
Targeted locations
The strategic placement of hoardings can ensure their effectiveness. Choosing the right location can significantly enhance brand exposure. Hoardings placed along major highways and roads can be seen by thousands of commuters daily. This provides an unparalleled opportunity to embed a brand's message into the minds of potential customers during their daily routines.
Advertisers can also choose specific locations and types of hoardings that align with their target audience. This targeted placement ensures that your message reaches the right people in the right context.
Creative freedom
Hoarding advertising offers creative freedom for businesses to craft compelling messages and visuals. The large canvas of a hoarding allows for eye-catching graphics, vibrant colours, and memorable slogans. With the right design, a hoarding can capture attention and leave a lasting impression on viewers. This creativity helps brands stand out in a crowded marketplace.
Excellent flexibility
Hoarding advertising does not require extensive lead time and can be implemented relatively quickly. This flexibility allows businesses to respond to changing market conditions, launch new products, or promote timely events. Whether it's a seasonal sale or a special promotion, hoarding advertising can deliver your message with speed and impact.
Cost effective option
While the upfront cost of designing and installing hoardings can be significant, the return on investment they offer often justifies the expense. Consider the long-term exposure and potential customer conversions a well-placed hoarding can provide. When compared to the ongoing costs associated with digital advertising, hoarding advertising can offer a cost-effective way to maximize brand exposure.
Transform your building project with bespoke hoarding from Plasloc
Are you a construction site or project manager in need of hoarding systems for a project you're working on? When fitted by our expert team, we ensure for compliance with all relevant legislation, so work can progress safely and efficiently. In addition, we have a wide range of optional extras so that your hoarding can be tailored to your specific requirements, for the most effective, eye-catching hoarding advertising displays.
For more information, give us a call on 01626 912216 or get a free quote online today.