A ground-breaking site hoarding solutions specialist has provided a major regeneration project in the heart of West London with its stylish hoarding.
Plasloc, which specialises in supplying unique hoarding solutions for major infrastructure and construction projects, was asked by The Berkeley Group to supply and set up their innovative hoarding at their White City Living project to allow the sale of its Phase 1 apartments.
Designed by Patel Taylor and set within eight acres of green open spaces, it offers more than 1,400 new homes, including suites, apartments, penthouses and duplexes, as well as boutique shops, bars and restaurants, all within 15 minutes of Central London.
White City Living is the next chapter of the highly-anticipated White City regeneration development and it was an exciting project for Plasloc to be a part of, despite its challenges.
Leigh Mathews, Director of the Newton Abbot-based company, commented: "We're thrilled to be involved in a project as ambitious as White City Living, but there were a couple of challenges Plasloc faced on this project which we needed our in-house design team to overcome.
"Firstly, we had to overcome the incline over newly built steps, which meant that the hoarding had to be cut into the stairs. Secondly, we had to go over some raised planters to follow the clients specified hoarding line, which we overcame by creating an extended bay out of system scaffold which cradled the lifted bed."
Efficient site hoarding from Plasloc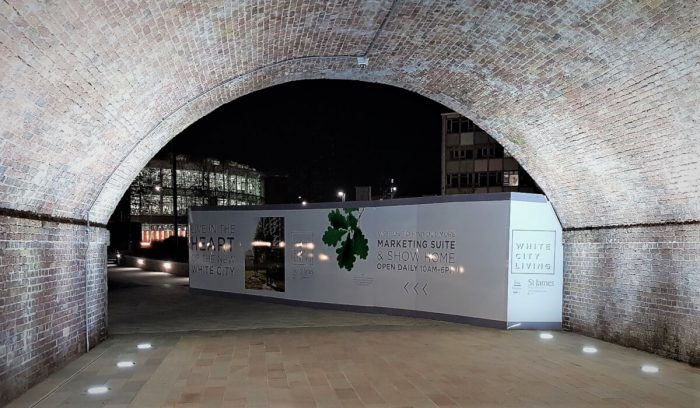 Designed for quick installation and easy removal, Plasloc's environmentally friendly hoardings appear clean and light and can be customised with corporate colours or printed graphics.
Plasloc has been an essential component in more than 5700 different projects and is a recognised brand amongst the UK's leading retailers and building contractors and Leigh commented: "We are extremely proud of our product's ability to adapt and thrive in challenging environments.
"Working with such a unique product truly sets us apart and the industry has really embraced what we do."
After the screens at White City are removed they, like all Plasloc's other partitions, will be recycled to produce more Plasloc. This process creates zero waste and sets Plasloc apart from other hoarding and screening solutions companies.
For more information please telephone 01626 356 995, email info@plasloc.com or contact us.